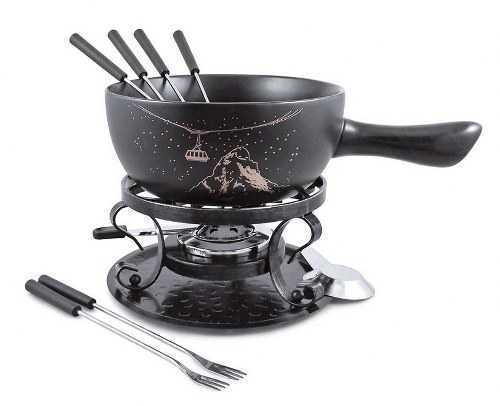 SKU
Matterhorn Fondue Set
Matterhorn Cheese Fondue Set
Don't forget to buy the paste fuel, item F-1036, so you can enjoy right away!
The set includes a black 2.5 qt. ceramic pan with the Matterhorn and climber on one side, and the Matterhorn and Gondola on the other side
the Classic black wrought iron burner with tray and paste burner
6 dark wood-handled cheese forks.
(Does not include paste fuel.)
Fondue pot and fondue burner can be also purchased separately.
Hours:
Sunday: 11AM–3PM
Monday: 10AM–5PM
Tuesday: CLOSED
Wednesday: 10AM–5PM
Thursday: 10AM–5PM
Friday: 10AM–5PM
Saturday: 10AM–5PM

Login Status
Not logged in
»
Login