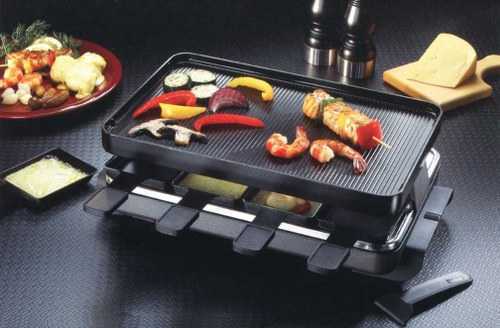 Rectangular Raclette Grill with Reversible Top
Great Raclette Grill for the perfect party or as a great gift!
8 pan Rectangular Raclette Grill features a reversible grill/crepe top; 120 volt, 1100 watt variable heat control. Includes 8 Raclette pans and 8 spatulas. Optional granite stone top for $60.00. Rectangular 10"" x 17"" grill. Color: Anthracite. To purchase your raclette cheese, be sure to go to www.alpanddellcheese.com to check out their selection of fine cheeses.

Hours:
Sunday: 10AM–3PM
Monday: 10AM–5PM
Tuesday: 10AM-5PM
Wednesday: 10AM–5PM
Thursday: 10AM–5PM
Friday: 10AM–5PM
Saturday: 10AM–5PM

Login Status
Not logged in
»
Login